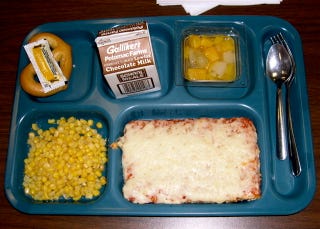 On Thursday, Belmont High School in Massachusetts will be serving a Domino's Pizza Slice with Black Bean & Corn Salad, and Sliced Pears for lunch. Tomorrow's "Keep it Light!" lunch will be a Turkey BLT on whole wheat with Toast Baked Chips, Potato Salad, and Diced Peaches. According to the official Belmont High School Lunch Menu site, sushi will also be offered:
SUSHI HAS ARRIVED! On Mondays and Wednesdays, sushi will be delivered fresh to US and fresh to YOU! Sushi is an a la carte item and is not part of a reimbursable meal. It will have to be paid for separately and pricing is listed below. A LA CARTE PRICE: 6 PIECE: $4.50 8 PIECE: $6.00
Ocean Shores High School in Oceanside, California, has a wide offering of items today on their lunch menu, highlights from which include a Tomato, Basil & Mozzarella Panini:
Elsewhere on the menu is "hummus."
"We know it sounds strange," they explain, "but this chickpea-based side makes a healthy spread and dip for vegetables, chips, crackers and more!"
The New York City school system looks to be finishing out the lunch week strong, with both Spaghetti OR Rotini Penne Pasta options today. Also available is Italian Meat Sauce. Tomorrow's menu will feature Mexican Chili and Steamed Rice, Chicken Parm Wrap, and Garlicky Green Beans.
Keep your eyes peeled for Breaded Fish Melt tomorrow in Chicago area public schools as well. More as it develops.